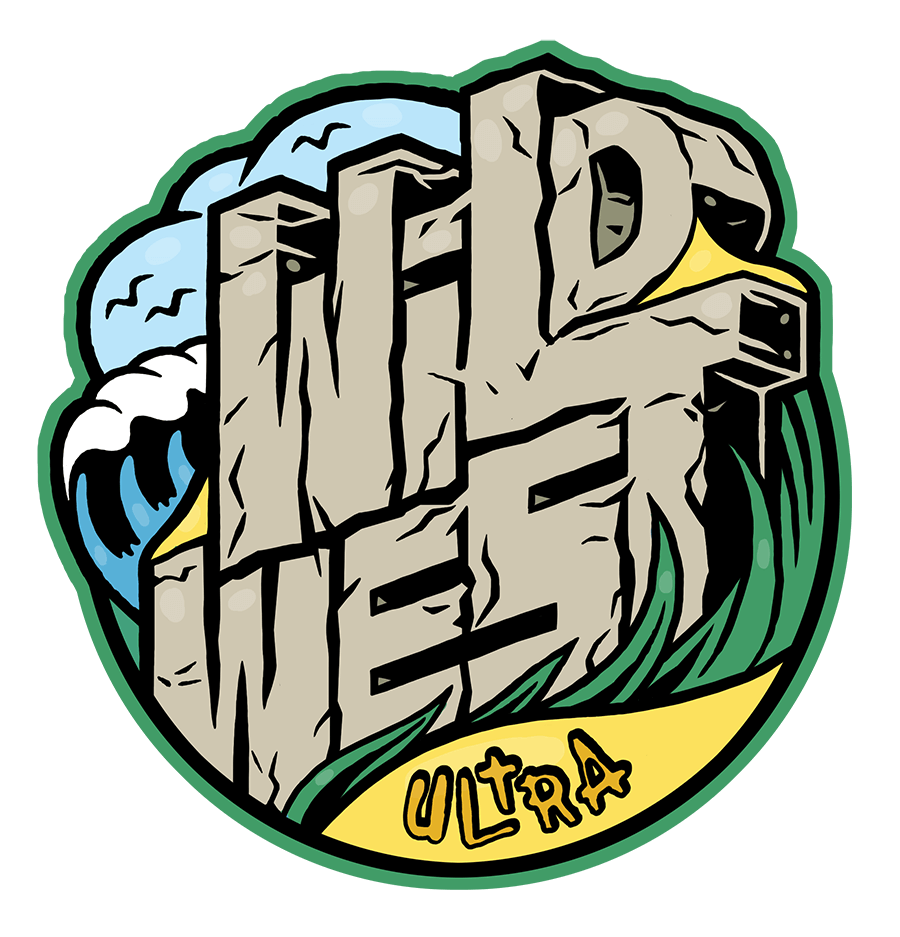 RACE WEEK UPDATE
THE ROUTE
Please find below links to publicly accessible versions of the route. These do not include the first 6 miles through the MOD area. All race entrants will be emailed a GPX file that includes the MOD section for guidance. If you have not received this by midday on the 13th of June, please get in touch.
Strava route – This can be used to navigate using the Strava phone app.
OS Maps – This can be used to navigate using the OS Maps phone app.
We will also provide each runner with an A3 version of the route map at registration.
ROUTE NOTES
The section through MOD is marked with white flags and you will be chaperoned through with some marshal runners. You can run at your own pace and you'll have time to enjoy the route.
Run along the beach at Freshwater West, there is a marshal at the end to point you towards the coastal path.
Don't attempt stepping stones at Angle (east), run around the wetland area (where you'll find an aid station).
The path onto Barafundle through the dunes is a little random, just get onto the beach along any established path.
You must cross the pedestrian bridge at Broad Haven South, do not attempt to jump onto the beach from the cliff and cross the river, please stick to the route.
The sand on Broad Haven South is pretty soft, it may be easier to use the wetter sand further towards the sea.
WEATHER
Given the recent weather the requirement for waterproof gear maybe lifted. We will make that call on Friday. If it is still as warm then we won't require you to carry fully weather kit but would expect you to carry extra water. The minimum is 1 litre and we would recommend you increase this to 1.5litres.
Obviously you should also carry some sort of head covering, sun screen and dress accordingly. You may also consider insect repellent as the horse flies are coming out to play in this heat.
Please also be aware of both heat stroke and hyponatremia.
We will update Friday but please plan according to the weather, you are all ultra runners (or soon to be) so you take care of yourselves, and each other.
WHAT WHERE WHEN
THE EVENT
The Wild West Ultra – A 40 mile mixed terrain ultra marathon run on the Pembrokeshire Coastal Path, closed access MOD land and National Trust trails.
EVENT TIME
The event will start at 8am.
Registration opens at 7am and closes at 7:45am.
EVENT DATE
Saturday the 17th of June 2023.
EVENT LOCATION
Stack Rocks carpark, Castlemartin Range, Pembroke, SA71 5HS.
What3Words | Google Maps
PARKING
The event starts in Stack Rocks carpark. If possible please travel together to reduce the amount of cars in the carpark. The carpark is free to use, but runners are not permitted to stay in the carpark overnight (it is patrolled!).
EVENT REGISTRATION / BRIEFING / START
In order to register you will need to bring a completed disclaimer form. You will not be able to register without this.
Registration will take place between 7am and 7:45am. You will be asked if you agree to the terms and conditions, you will then be given your race number.
Nothing will be sent in the post to you, all you need will be collected at registration. There are no spaces left in this event, therefore we cannot offer entry on the day.
RACE NUMBERS
Your race bibs will be given to you at registration, these must be worn on the FRONT during the run. They must not be folded and must be pinned in all four corners – please bring your own pins! You need to write your name, any medical condition(s) you may have, and an emergency contact number on the back of your race bib. Race belts are allowed provided the number is visible to the front and is not folded.
TOILETS
Toilets will be available in the carpark. These are free to use.
ON IT
KIT
There is a compulsory race kit which will be inspected at registration and can be inspected at any time on the course, no kit, no run:
Running bag to hold your kit
Minimum 1 litre of water to be carried
Sufficient nutrition for emergencies (don't rely on feed stations)
Waterproof coat with taped seams & waterproof trousers & emegency survival bag/blanket (if weather is looking good a few days before the event we may not insist on these items)
Phone, charged
Map (to be supplied at registration)
In the event of hot weather then head covering will be needed
Please remember to wear appropriate clothing for the given conditions on the day. There are a few short road sections which are open the public. Please keep on the right during the road sections as there may be cars passing. The rest of the run is on coastal paths, beaches or forest trails. Please wear trail running trainers as the path is uneven and may be wet and muddy.
Due to restrictions placed on us by the MOD, dogs are not permitted to take part in the event.
COURSE MARKING
The course is not fully marked. We will email you a GPX of the route prior to the event and a map will be supplied on registration. We are not releasing this prior to event to avoid runners entering restricted MOD land before the event.
The course will also have a number of marshals strategically located along the way for your safety.
MOD LAND
As you're aware, the route passes through the stunning 'range west' part of the Castlemartin range. This part of the coastal path is normally out of bounds to the general public unless they have received special training. We have been granted access to this area by the MOD, with strict guidelines on how we are able to access it. We will explain more about this during the race briefing, but we will have lead, mid-pack and sweeper marshals escorting you through the range. You will not be rushed through in any way and will have plenty of time to enjoy the area. The route is also going to be marked out with marker flags. The MOD have requested we include the following simple explanation of how to behave whilst on the range, which we will explain further during the race briefing.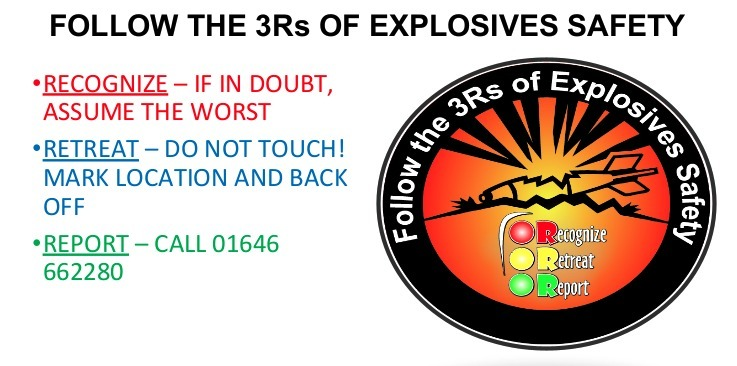 AID STATIONS
There are 6 aid stations, these are located at the following distances.
7 miles – Water only
15 miles – Water, fruit, gels
21 miles – Water only
26 miles – Water, fruit, gels
31 miles – Water only
35 miles – Water, fruit, gels
CUT OFF TIMES
There are cut off times at each aid station. We are allowing a very generous average pace of 15 minute miles, so these will be strictly adhered to by our marshal team.
7 miles – You must arrive by 9:45am
15 miles – You must arrive by 11:45am
21 miles – You must arrive by 1:15pm
26 miles – You must arrive by 2:30pm
31 miles – You must arrive by 3:45pm
35 miles – You must arrive by 4:45pm
FIRST AID
Will be available at finish but will also be mobile, in the case of any accidents on the course phone the number on the back of the race bib and if no signal alert a marshal.
WITHDRAWAL
If you pull out during the event, you must call and let event directors know.
SMALL PRINT
SMALL PRINT RULES, REGULATIONS AND ADVICE
All racers must abide by the countryside code whilst off road and the highway code whilst on the road sections.
All litter must be kept & disposed of once back at the events centre. Anyone spotted or caught dropping litter will be immediately disqualified from this event and all future sporting events. The countryside is beautiful & we need to keep it that way.
Remember we are sharing footpaths with other countryside users like dog walkers, horse riders and mountain bikers. Please offer common courtesy & do not barge your way past people just to get that extra millisecond in your event result. Behaviour like this could jeopardise future events and will result in disqualification if you are spotted doing so.
On route there are marshals/teams strategically placed for your enjoyment & safety. If you find you are struggling, or know of another competitor who is, please inform the closest marshal so they can communicate this to the Event Director back at HQ.
In the event that you have to withdraw from the event after registering for any reason whatsoever, you must inform the event official at the finish line. We have to account for all runners who start the event and therefore if you do not inform us of your withdrawal the emergency services may have to be involved.
On the back of your race number you will need to complete all the details including any medical conditions you suffer from. This is for your protection and your benefit so please complete. We will be inspecting race numbers and those that have not completed the details will not be allowed to start.
Due to the fact that part of the event is on roads open to traffic personal music devices are not acceptable. This is for your's and other's safety so anyone found breaching this rule will be disqualified and fed to the wolves.
Be ready
Team Nobbler